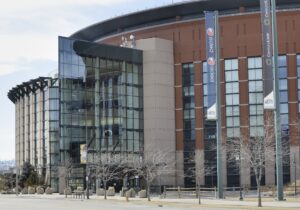 Pepsi Center (aka The Can) constructed in 1999 is a multi-purpose arena and home to the Colorado Avalanche (NHL), the Denver Nuggets (NBA), the Colorado Mammoth (NLL), and the Colorado Crush (NFL). When not in use by one of Denver's sports teams, the building frequently serves as a concert venue.
The arena was designed with a large overhanging concrete roof deck that presented a hazardous walking surface because of the low parapets and a large restricted access light well. The building was also designed with sunshades having vertical spaces, and extensive atrium areas. Sports arenas always pose a challenge since they are creative endeavours, unlike conventional buildings.
Pro-Bel Technical Approach 
To allow platform suspension lines and lifelines to be located close to the face of the exterior glass, rigging sleeves were installed through the roof overhang. Lines pass through the sleeves and the sunshades in many cases. Typically, workers access rigging sleeves at upper levels via the roof and then suspend their lines through the sleeves and return to the first floor or lower level to ground rig their platform. The atrium interior glass areas were accessed in a similar manner. The sunshade areas employed transportable outrigger beams for suspension purposes. To protect workers working close to the roof edges and light well areas, a Pro-Bel "Hands-Free Horizontal Cable Lifeline" system was employed. Sloped and domed roofs lend themselves to this type of travel restraint and fall protection. Essentially, the lifeline supports require mounting to the roof deck or structural walls. An important consideration in the design of Pro-Bel supports is the need to maintain the long-term watertight integrity of the building. Pro-Bel products are designed with a full understanding of reliable flashing/sealing techniques to satisfy virtually any roof condition.