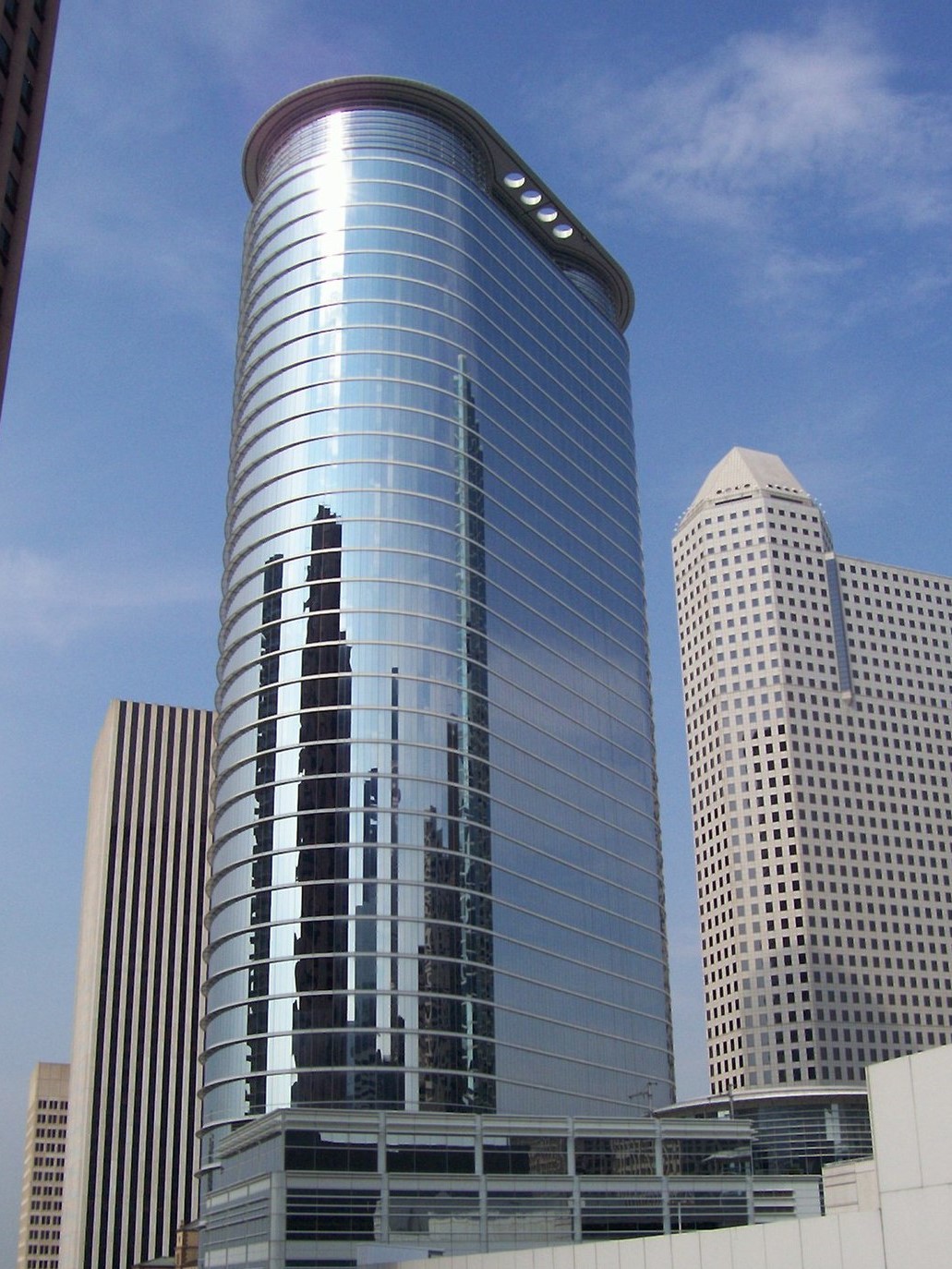 Project Description
The Enron building completed in 2002 consists of a 40 storey tower and two related buildings comprising 1,300,000 square feet (119,600 m²) of office space.
Unique architectural features comprising horizontal accent pipes encircling the top of the 3 buildings (Garage Rotunda, Podium Rotunda and Tower) represent an unusual roof perimeter configuration and posed an uncommon challenge to Pro-Bel engineers due to window cleaning platform supports being typically located on the roof.
Pro-Bel Technical Approach
In order for the various Pro-Bel permanent powered suspended platforms to by-pass the accent pipe sections on the Garage Rotunda, Podium Rotunda and Tower, special custom hydraulic retractable "ski rollers" that unfold to a vertical mode in front of the platform facilitate vertical travel up and down the face of the Enron building. These pipes would otherwise be difficult to circumvent with a conventional style platform.
The platforms are suspended from trolleys mounted inside monorails located on soffit overhangs at the uppermost level of the buildings. Recessed balconies or building faces at the upper levels require platforms to be switched from an interior monorail to an exterior monorail and vice versa using a "turntable". To avoid using a perimeter-type electrical bus bar system of providing power to the platforms, battery powered trolleys are used at each platform "drop". The batteries are plugged into permanent electrical outlets located in soffits when not in use.
On the high Tower, an unusual procedure requiring a Pro-Bel winch-hoist and special lifting frame had to be used to hoist platform sections from a recessed Tower roof storage area, swung across a narrow terrace, and then lowered through a 10'-0" (3 m) diameter opening in the unique roof overhang to the 40th floor balcony landing areas where the platform sections are assembled and launched. The assembled platform is then suspended from a monorail and battery-operated trolley system.
On the 8th Floor Podium, Pro-Bel davits 14'-5" (4.4 m) high with 11'-7" (3.5 m) reach are used to suspend one of a variety of different sized platforms.