---
Window Washing is often performed with either a bosun's chair system or suspended platform in conjunction with Pro-Bel rigging equipment (such as anchors, davits, outriggers, etc.)
Read on for a quick CSA guide of bosun's chairs and platforms.
Please note: if your building is in the United States, these regulations do not apply to you. OSHA, ASME and ANSI are the codes and regulations that United States operates under.
A bosun's chair is defined by CSA Z91 as a "work-positioning device designed for a one-person seating, which is supported by slings or a frame and attached to a single point suspension. CSA Z91 is the health and safety code for suspended equipment operations and CSA Z271 is the standard for the Design of Suspended Access Equipment. These are the 2 standards that are referenced in this article.
Usage Restrictions for Bosun's Chair Systems
CSA allows the use of descent control supported Bosun's chair systems up to the height of 46m (150ft) without stabilization. In cases where stabilization is provided, the allowed maximum suspension height is 150m (492ft). Stabilization devices such as suction cups are an acceptable solution in this case.
Bosun's Chair Systems are not allowed to be used at heights higher than 92m (302ft) if wind speeds are higher than 16km/h (10mph) on the working side of the building.
Rigging
In the construction industry, a boatswain's chair should always be rigged with a pair of single sheave pulley block, having a safe working load of at least 225kg. The bosun's chair is often rigged to safety roof anchors (the lifeline and suspension line are tied off independently to separate anchors). Outriggers and other supports must be strong enough and be securely fastened down. Where weights are used, a safety factor of four is required.
Suspended Platform
Suspended platforms are intended for 2 workers and can be either permanent or portable. A permanent platform is dedicated to the building. They must be designed and constructed according to CSA-Z271.
Stabilization is required if a platform is to be used at heights more than 45m (148ft). in this case, guide tracks or intermittent stabilization (buttons) must be provided.
Suspended platforms are used most often in conjunction with Pro-Bel Davit systems located on the roof, podium, or sometimes balconies. Davits cannot be used if suspension height is more than 150m (492ft).
In this case that a structure exceeds 150m, CSA recommends roof level hoists and roof cars. A Roof car is a mechanical structure on the roof that a platform is suspended from and can be moved to pre-determined working positions.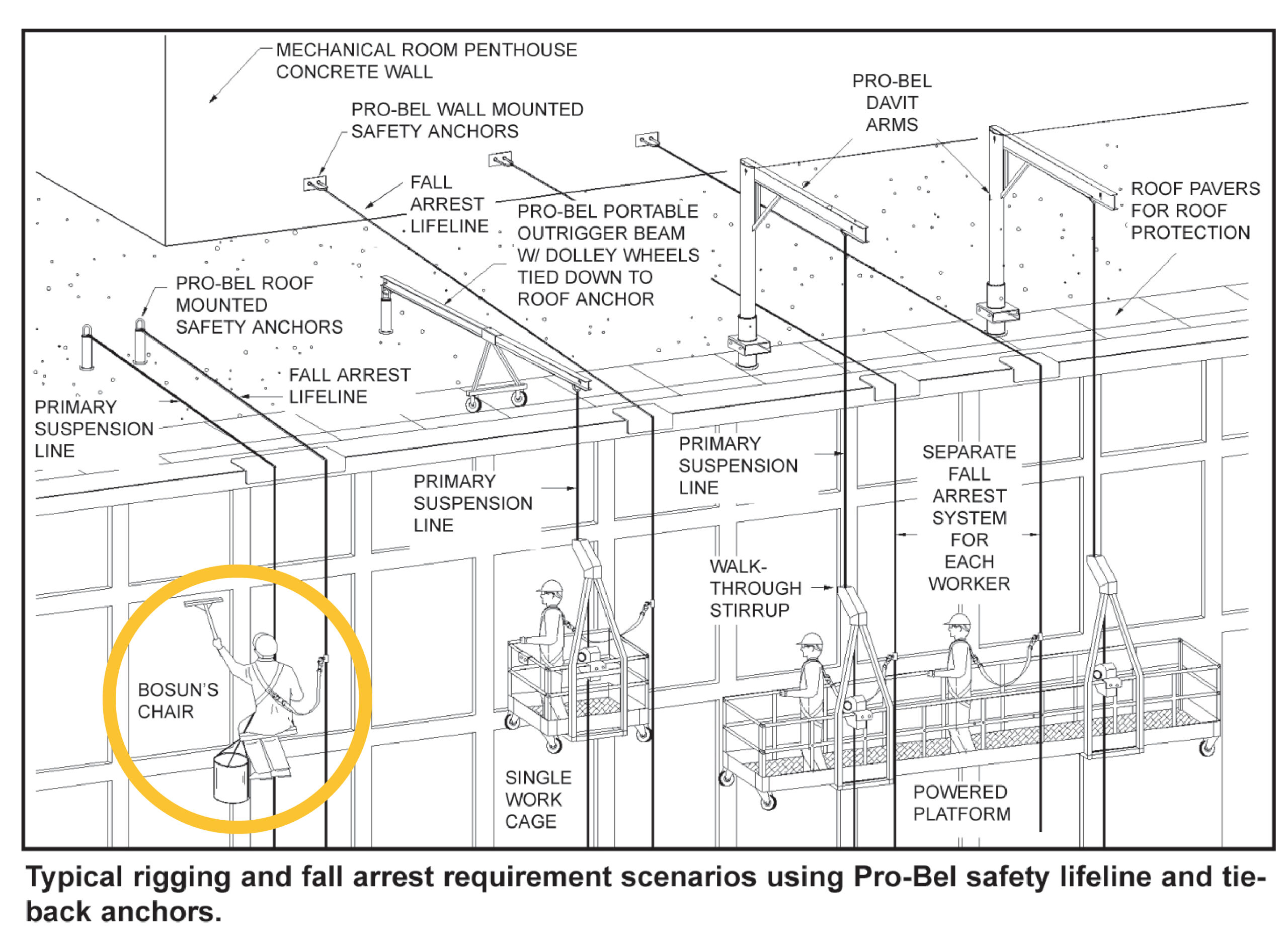 ---
Pro-Bel Safety Anchors
---
---
---
More on the Blog